Summit 2023: Redefining Project Success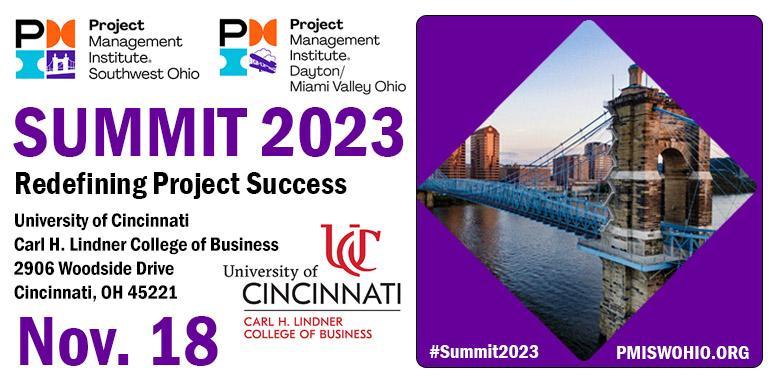 The Project Management Institute (PMI) of Southwest Ohio and Dayton/Miami Valley Chapters in partnership with the University of Cincinnati's Carl H. Lindner College of Business are teaming to offer our first in-person Summit since 2019!
Our theme this year is Redefining Project Success, with facilitators that align with the PMI Talent Triangle and inspired by the 2023 Pulse of the Profession. We hope you can join us for this exciting event at UC to connect again, for professional development, and most importantly, to earn PDUs. For those of you that cannot join us this year, a hybrid option will be available. More session details are coming soon.
Students: University and High School students are welcome to attend Summit 2023 at the reduced price of $30. Note that you must select the radio button Students located above your contact information after selecting Register for this event and logging in or registering as a guest to receive that price. Please use your school email address when registering. If you are a student and have any questions, please contact webmaster@pmiswohio.org. We look forward to seeing you there.
Corporate Attendees: 5 or more from your team attending Summit? Attendees may register for the event at $149 each. If you'd like to be invoiced or if you'd prefer to use a promo code, please contact webmaster@pmiswohio.org.
Hybrid Attendees: Can't make it to UC on November 18th? You will be contacted prior to the day of Summit for further instructions on how to connect.
Cost and Registration: Early Bird Chapter Member - $99 | Early Bird Guest - $149 | Student - $30
Register for this event